Litigation – risky business for liquidators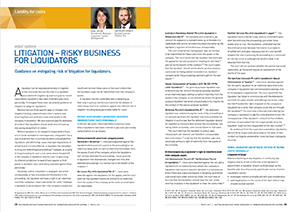 LITIGATION – RISKY BUSINESS FOR LIQUIDATORS - Guidance on mitigating risk of litigation for liquidators.
Download PDF Article
LCM's Siba Diqer and Clayton Utz's Anthony Burke write for the Australian Restructuring, Insolvency & Turnaround Association Journal (Volume 33 #01 2021) on how liquidators can avoid personal risks to pay costs.
Liquidators can be exposed personally in litigation. This article examines some recent cases where liquidators have been ordered to pay costs personally – and provides guidance on litigation strategy to mitigate these risks.
Download PDF Article