Treasury consultation request – changes to laws affecting class actions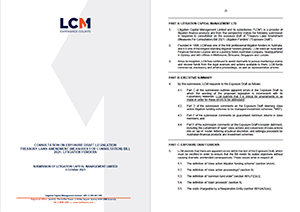 LCM responds to a consultation paper from Treasury on draft legislation to amend the distribution of proceeds in funded class actions and other critical changes.
Download PDF Article
EXECUTIVE SUMMARY
By this submission, LCM responds to the Exposure Draft as follows:
4.1. Part C of this submission outlines apparent errors in the Exposure Draft by
which the wording of the proposed legislation is inconsistent with its
Explanatory Materials. LCM submits that it is critical for amendments to be
made in order for these errors to be addressed;
4.2. Part D of the submission comments on the Exposure Draft deeming class
action litigation funding schemes to be managed investment schemes ("MIS");
4.3. Part E of the submission comments on guaranteed minimum returns to class
members; and
4.4. Part F of the submission comments on the Exposure Draft's broader detriment,
including the curtailment of 'open' class actions and conversion of class actions
into an 'opt-in' model, fettering of judicial discretion, and setting.
Download PDF Article